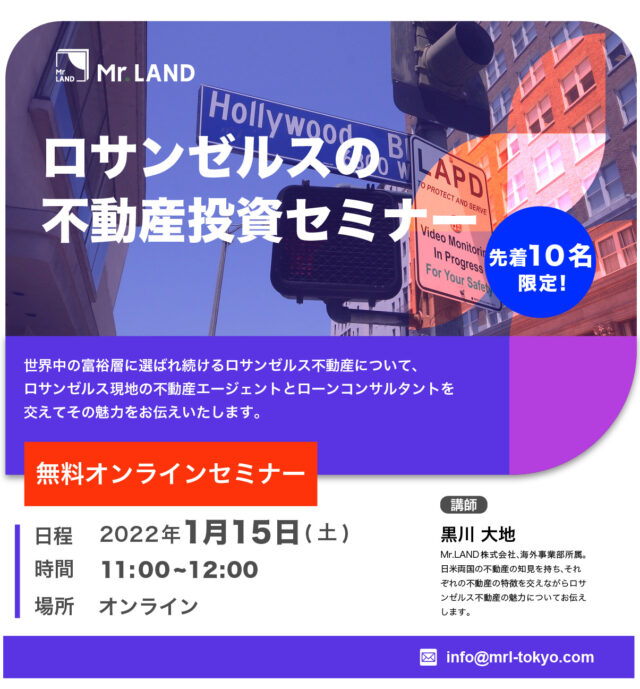 Investors often shy away from real estate investing thinking that the following factors make it too risky –
"Vacancy risk", "Declining rents", "decrease in asset value".
However, what if we told you that these risks can be mitigated by investing in the right real estate?
Los Angeles is still the hottest and most risk averse place to invest in the US right now and we will tell you
why and how to invest there.
Investing in Los Angeles real estate can  expand your assets with stable income from rent and capital gains
from increased asset values. This is the reason why LA remains one of the most sought after and desirable
real estate markets in the world.
In this seminar we will aim to bring you boots on the ground information from LA based realtors and loan
consultants. Join us for this FREE seminar for inside tips and tricks as well as the lowdown on how to invest
in the hottest real estate market in the world
———————————————————————————————-
Instructor:          Daichi Kurokawa and 2 others
Fee:                   Free
Number of participants: 10 people
Date:                January 15, 2022 (Sat)

Time:                  11:00~12:00
Place:                  Online
Access:                Meeting Room/URL/Password will be sent to registered participants
Language:          Japanese
———————————————————————————————–
【Seminar Contents】
・Why LA is recommended as a real estate investment
・Introducing our LA property investment
・Looking at US real estate investments through economic trends
・Points to consider when selecting real estate properties
・Characteristics of US Lease Agreements
・Explanation of various property types
<Seminar Style>
We will send registered participants the link to the seminar which can be accessed on the date
and time of the seminar.
Please turn off the video feed and turn on mute.
<Notice>
※We ask that participants not be of the same industry or use this seminar for sales purposes.
※Please refrain from recording or taping this seminar.
———————————————————————————————–
REGISTER HERE
※To register, please click on the above link. Please write your name, telephone number and email address in the content section.